| | | | | | | |
| --- | --- | --- | --- | --- | --- | --- |
| BaronSat's Lego News Blog. | | | | | | |
CLASSIC PIRATES : 6265 SABER ISLAND REDUX CUSTOM MOC MODEL BUILDING INSTRUCTIONS.
August 2019.
Click on the picture and find the FREE building instructions for my moc model modern version of Saber Island. The partslist and stickers are included. The whole stuff is free so enjoy and if you want to help me to create more free instructions in the future, please consider making a donation, the amount you want.
CLASSIC PIRATES : 6265 SABER ISLAND REVISITEE, MOC MODEL INSTRUCTIONS DE MONTAGE.
Août 2019.
Cliquez sur l'image pour retrouvez les instructions de montage GRATUITES et construire, étape par étape, ma version moderne de Saber Isalnd. La liste de pièces et les stickers s'y trouvent aussi. Tout cela est gratuit, alors profitez-en et si vous voulez m'aider à créer plus d'instructions gratuites à l'avenir, veuillez envisager de faire un don, du montant que vous souhaitez.
WW2 GERMAN TURRET & OBSERVATION BUNKER CUSTOM MOC MODEL BUILDING INSTRUCTIONS.
August 2019.
Find here all the pages to build, step by step, my moc model of a German WW2 Turret & Observation bunker. The partslist is showed in pictures at the bottom of this page. The whole stuff is free so enjoy and if you want to help me to create more free instructions in the future, please consider making a donation, the amount you want.
WW2 BUNKER ALLEMAND TURRET & OBSERVATION MOC MODEL INSTRUCTIONS DE MONTAGE.
Août 2019.
Retrouvez ici toutes les pages pour construire, étape par étape, mon modèle moc d'un bunker allemand WW2 Turret & Observation. La liste de pièces est montrée en images au bas de cette page. Tout cela est gratuit, alors profitez-en et si vous voulez m'aider à créer plus d'instructions gratuites à l'avenir, veuillez envisager de faire un don, du montant que vous souhaitez.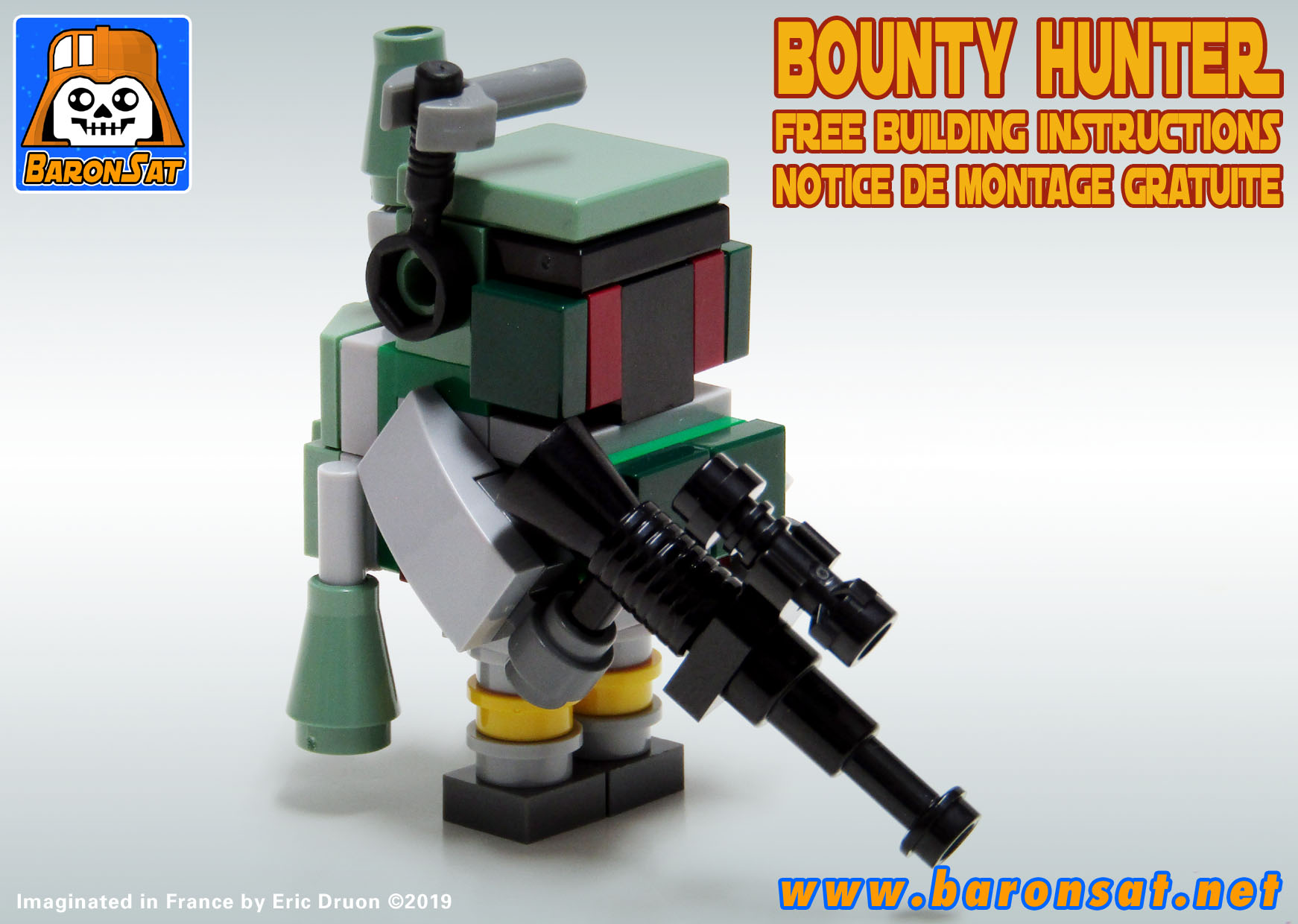 LEGO BRICK BUILD MINI BOBA FETT MOC BUILDING INSTRUCTIONS .
July 2019.
As you may known, I'm a fan of Brickheadz because they are sooo cute, but we must admit that they take up room. So when I found this concept of mini figures built with Lego bricks, I immediately wanted to adapt it to the characters I love. So here is Boba Fett the famous bounty hunter of "The Empire Strikes Back" and the "Return of the Jedi" from the Star Wars saga. This MOC is besides my favorite because, thanks to its armor the rendering in bricks is really very good.
FIGURINE MINI BOBA FETT EN BRIQUES LEGO, INSTRUCTIONS DE MONTAGE.
Juillet 2019.
Comme vous l'avez déjà vu, je suis amateur de Brickheadz car il sont très mignons, mais il faut bien reconnaître qu'ils prennent de la place. Aussi quand j'ai trouvé ce concept de mini figurines construites avec des briques Lego, j'ai tout de suite eu envie de l'adapter aux personnages que j'aime. Ici il s'agit bien sûr de Boba Fett le célèbre chasseur de prime de "L'empire contre-attaque" et du "Retour du Jedi" de la saga Star Wars. Ce MOC est d'ailleurs mon préféré car grâce son armure le rendu en briques est vraiment très bon.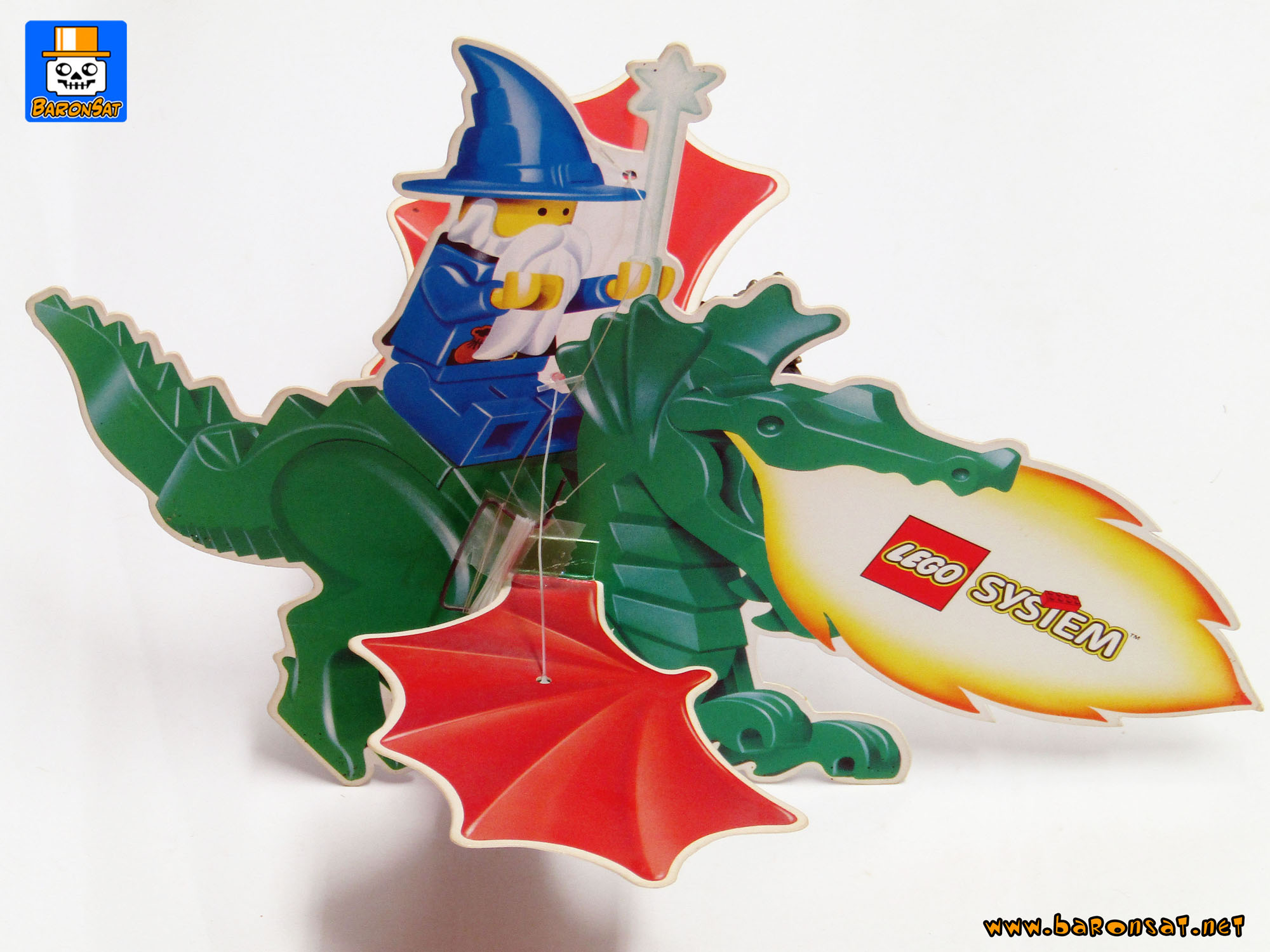 LEGO STORES DISPLAYS.
I put on sale my collection of Lego dispaly signs : hanging and new "flat" boxes, dating from 1990 to 2000. Take a look and do not hesitate to make me offers based on the prices indicated.
COLLECTION DE PLV LEGO.
Je mets en vente ma collection de PLV : mobiles et boites neuves "à plat", datant années 90 à 2000. Jetez un oeil et n'hésitez pas à me faire des offres en vous appuyant sur les prix indiqués.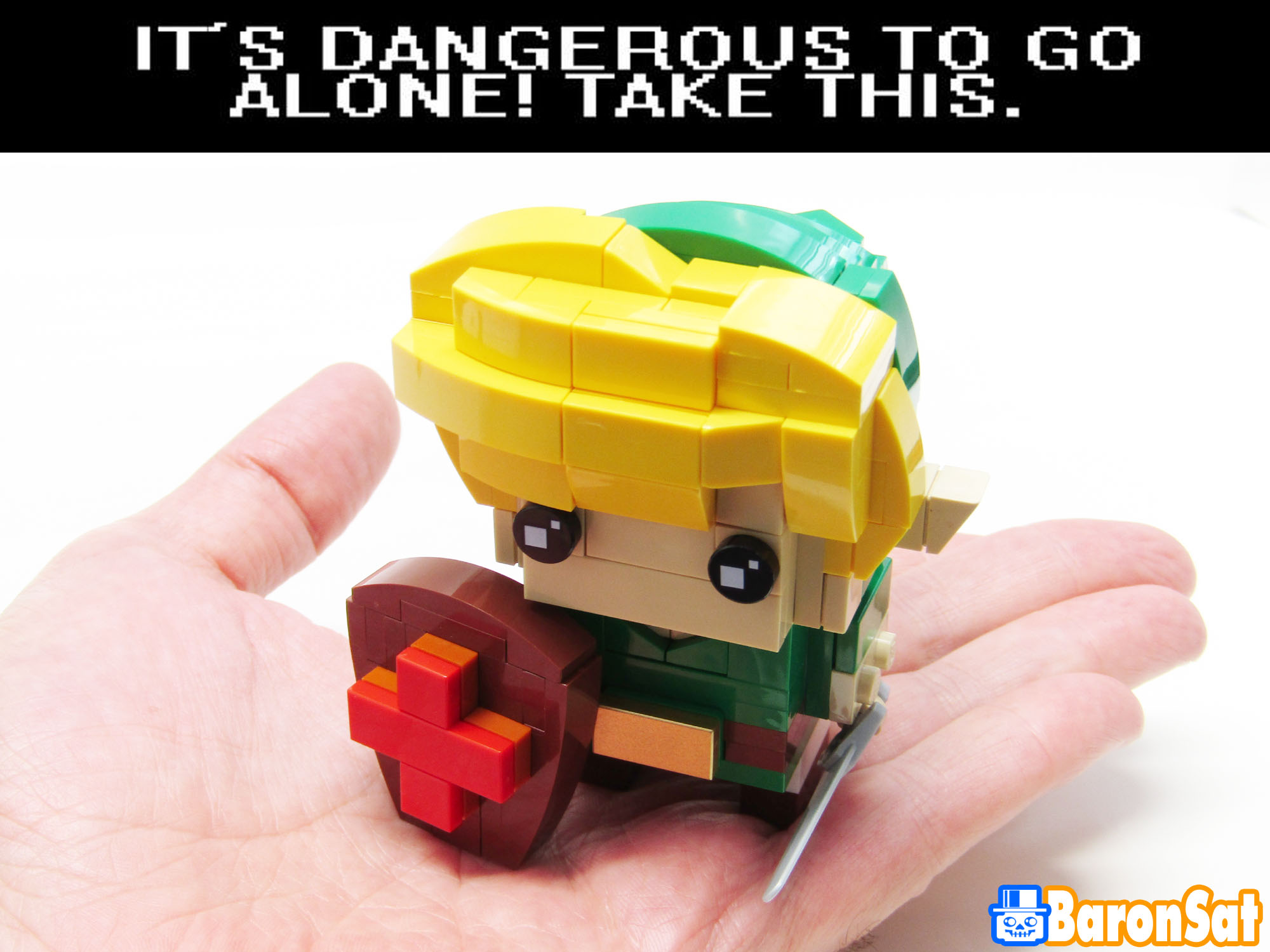 THE LEGEND OF ZELDA, LINK BRICKHEADZ MOC / CUSTOM MODEL.
June 2019.
A new Brickheadz in my moc collection, Lin from the Legend of Zelda. This model is based on the charcater from the original 1986 Nintendo NES videogame.
LA LEGENDE DE ZELDA, LINK MODELE CUSTOM / MOC BRICKHEADZ.
Juin 2019.
Un nouveau moc dans ma collection de Brickheadz, Link de la légende de Zelda. Ce modèle est basé sur le personnage du jeu vidéo original Nintendo NES de 1986.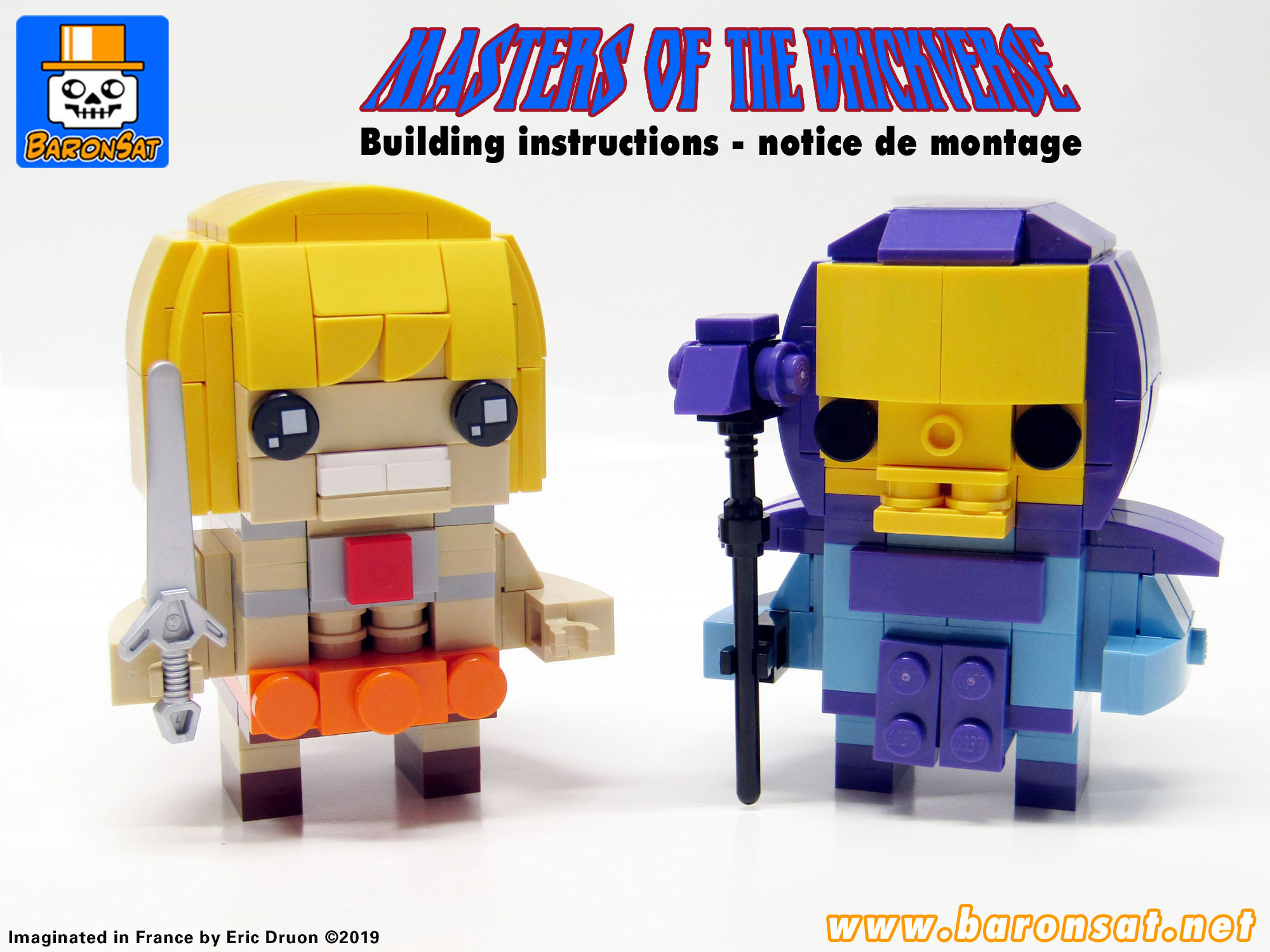 MASTERS OF THE BRICKVERSE BRICKHEADZ MOC, CUSTOM MODEL.
May 2019.
Masters of the Brickverse Brickheadz Moc building instructions are ready and for sale in my shop.
The .bsx and .xml partslist to use on the Bricklink website are of course included.

LES MAITRES DU BRICKVERSE MODELE CUSTOM, MOC BRICKHEADZ.
Mai 2019.
Les instructions de montage pour les Brickheadz des Maîtres du Brickvers sont prêtes et en vente dans ma boutique.
Les listes de pièces .bsx et .xml à utiliser sur le site Web de Bricklink sont incluses.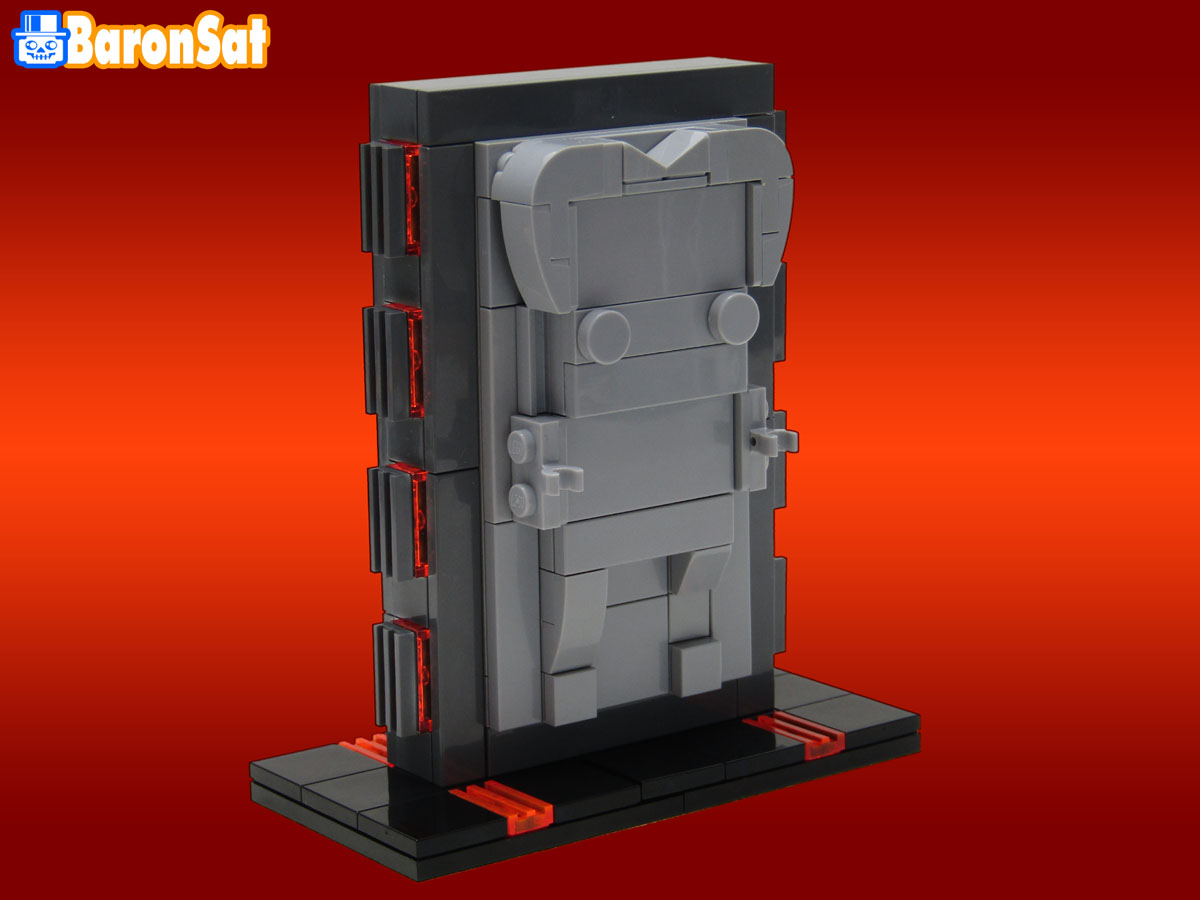 BUILDING INSTRUCTIONS FOR HAN SOLO IN CARBONITE MOC, CUSTOM MODEL.
May 2019.
FREE Brickheadz building instructions for Han Solo in Carbonite block moc. Those will be a gift for any purchase during the month of May. The .bsx and .xml partslist to use on the Bricklink website are included.

INSTRUCTIONS DE MONTAGE POUR MOC HAN SOLO DANS LA CARBONITE.
Mai 2019.
Les instructions de montage GRATUITES pour le moc Brickheadz de Han Solo dans la Carbonite seront un cadeau pour tout achat au cours du mois de mai. Les listes de pièces .bsx et .xml à utiliser sur le site Web de Bricklink sont incluses.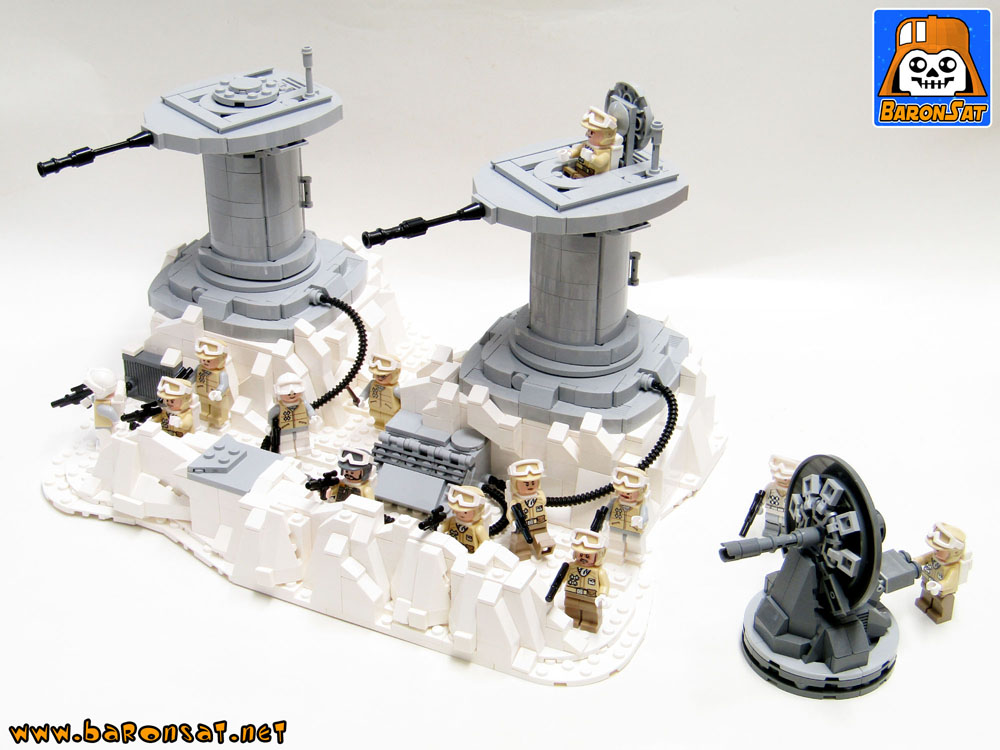 ESB BATTLE OF HOTH LEGO MOC CUSTOM MODEL
April 2019.
A new Battle of Hoth Lego custom model the Hoth Turret Defense playset. Another model inspired by the vintage Kenner Star wars Micro Collection toys of the early 80s.
I'm currently finishing to modelize it, so building instructions will be soon ... Now availalble in my shop >.
NOUVEAU MODELE CUSTOM, MOC LEGO BATAILLE DE HOTH
Avril 2019.
Un nouveau modèle custom en briques Lego de la bataille de Hoth, le playset Hoth Turret Defense. Un autre modèle inspiré des jouets vintage Kenner Star Wars Micro Collection du début des années 80. Je suis en train de terminer la modélisation de celui-ci, donc les instructions de construction seront bientôt... Maintenant disponibles dans ma boutique >.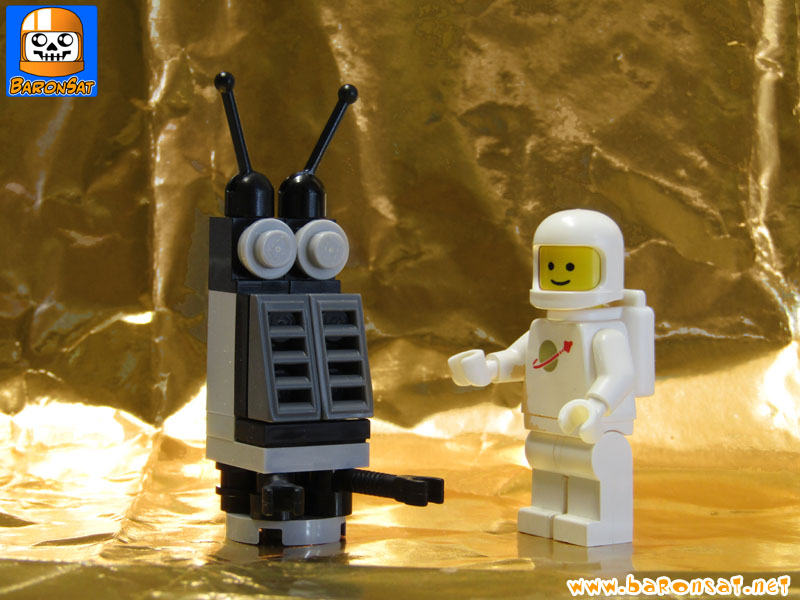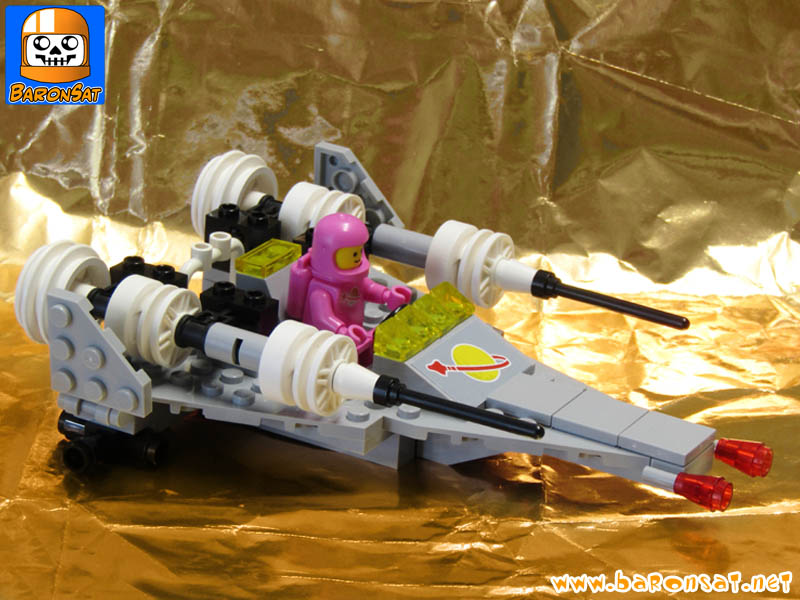 NEO SPACE CLASSIC LEGO MOC CUSTOM MODEL
February 2019.
Two new Neo Classic Space models with a new and pretty "schway" background. Better than Hollywood's blockbusters FX with this gold foil paper from a chocolate's bar. Like what, gluttony it pays. The rebuilt models are the 6909 "XT-5 and Droid", as well as the shuttle of the set 493 "Space Command Center".
MOC MODELE CUSTOM LEGO NOUVEAU CLASSIC ESPACE
Février 2019.
Deux nouveaux modèles Neo Classic Space avec un nouveau fond qui déchire grave. Mieux que les effets spéciaux des blockbusters d'Hollywood grâce à ce papier alu doré provenant d'une tablette de chocolat. Comme quoi, la gourmandise ça paie. Les modèles reconstruits sont le 6909 "XT-5 et Droid", ainsi que la navette du set 493 "Space Command Center".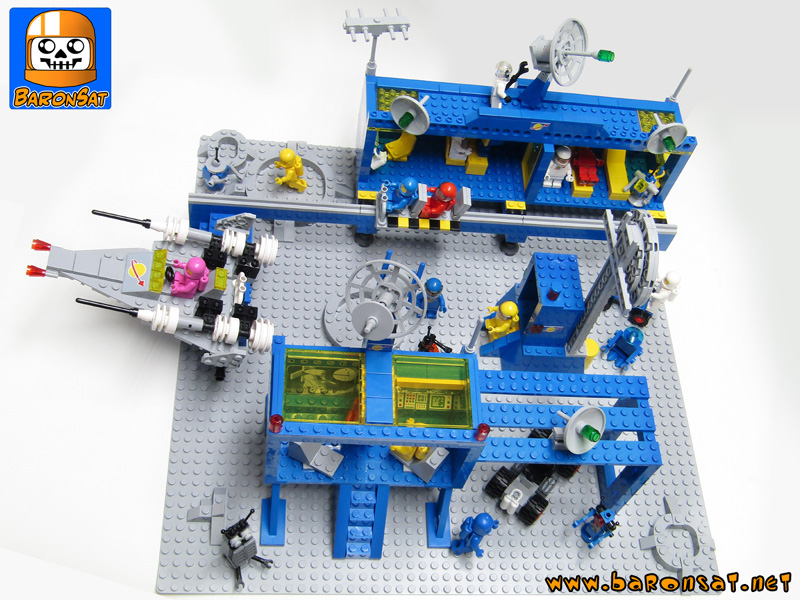 NEO SPACE CLASSIC LEGO CUSTOM MOC MODEL
February 2019.
As promised, here is another picture of my custom Neo Classic Space models. Initially I just wanted to rebuild the vintage Lego model of the 6970 Beta 1 Command Base, a small command center with its mini monorail leading to the launch pad of the small spaceship. After putting it on a 48 x 48 baseplate, I thought it was a little empty, so I added my version of the 493 Space Command Center and the cabin from the set 497 Galaxy Explorer to complete the whole thing. This playset is build with a mix of modern and vintage Lego parts and stickers for the printed parts. The roof panels of the Space Command Center are Trans-Clear, so I thought to apply transparent yellow film or dye these pieces but finally I preferred to retouch the image to color them.
MODELE CUSTOM LEGO NOUVEAU CLASSIC ESPACE
Février 2019.
Comme promis, voici une autre photo de mes modèles custom Neo Classic Space. Au départ je voulais juste reconstruire le modèle Lego vintage du 6970 Beta 1 Command Base, petit centre de commande avec son mini monorail menant à l'aire de lancement du petit vaisseau spatial. Après l'avoir posé sur une plaque de 48 x 48, j'ai trouvé que ça faisait un peu vide, j'y ai donc ajouté ma version du 493 Space Command Center ainsi que la cabine du set 497 Galaxy Explorer pour compléter le tout.
L'ensemble est construit avec un mélange de pièces Lego modernes, vintage et des autocollants pour les pièces sérigraphiées. Les Panneaux du toit du Space Command Center sont transparent blanc, j'avais donc pensé d'abord poser du film jaune transparent ou teindre ces pièces mais finalement j'ai préféré retoucher l'image pour les colorer.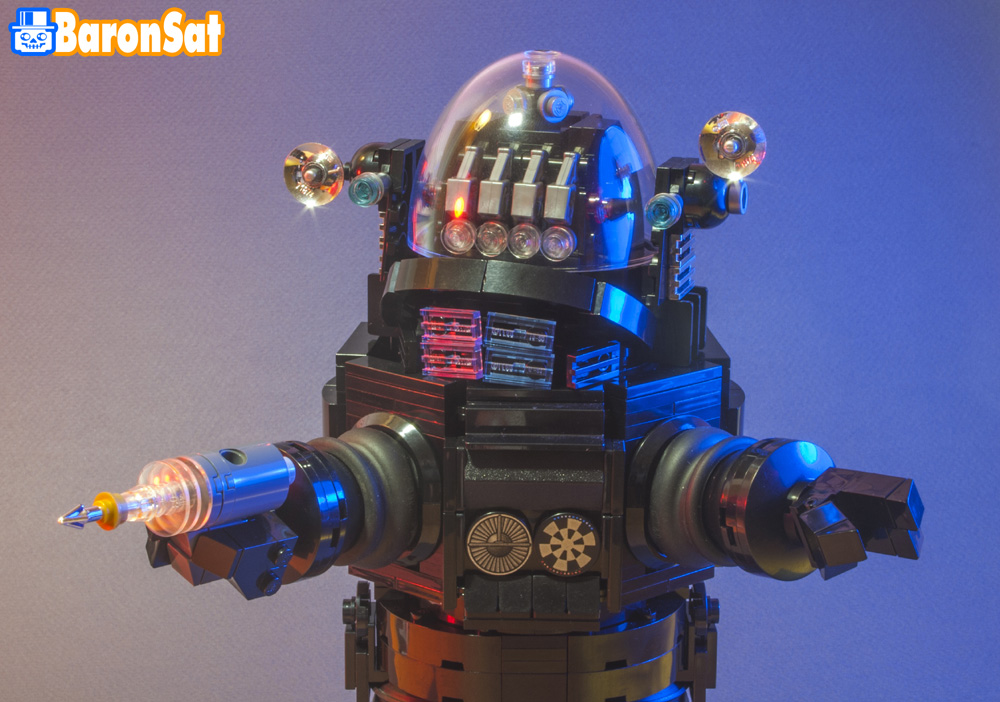 CLASSIC SCI-FI MOVIE LEGO CUSTOM MODEL MOC
I just updated the building instructions of my custom Lego bricks model: "Forbidden Robot". There were two small mistakes in the feet and head. Incidentally, I took the opportunity to create new instructions to build a different head, more accurate to the original. The file now contains two pdf and two partslists, a 2016 version and a 2019 version. I would like to thank Daniel M. who kindly offered to use his modified version of the head as the basis for my new work. If you have already purchased these instructions in the past, contact me and I will send you, free of charge, the new link for you to have this update.
LEGO SCIENCE FICTION MODELE CUSTOM MOC
Je viens de mettre à jour les instructions de montage de mon modèle : "Forbidden Robot" en briques Lego. Il y avait deux petites erreurs au niveaux des pieds et de la tête. Au passage, j'en ai profité pour créer de nouvelles instructions pour construire une tête différente et plus fidèle à l'original. Le fichier contient donc maintenant deux pdf et deux liste des pièces, une version 2016 et une version 2019. Je tiens à remercier Daniel M. qui m'a gentiment proposé d'utiliser sa version mofiée de la tête comme base pour mon nouveau travail. Si vous avez déjà achetées ces instructions, contactez-moi et je vous enverrais, gratuitement, le nouveau lien pour que vous puissiez avoir cette mise à jour.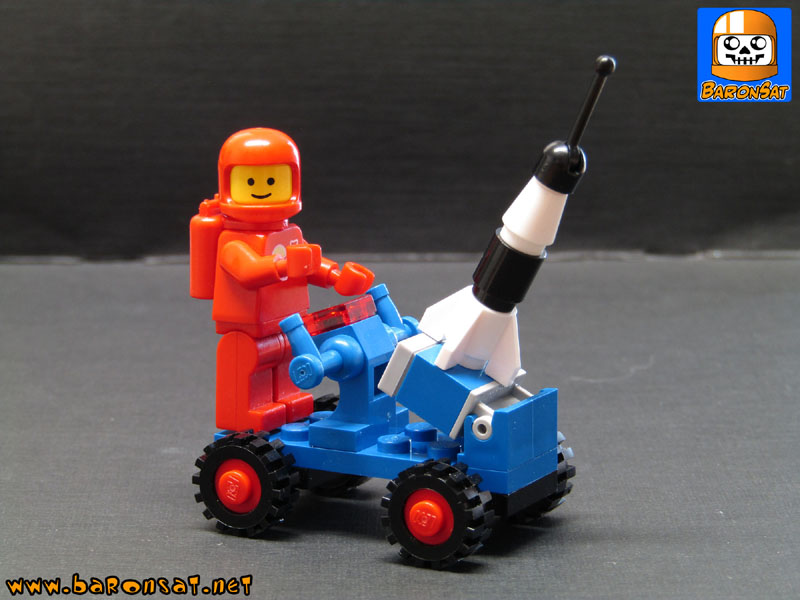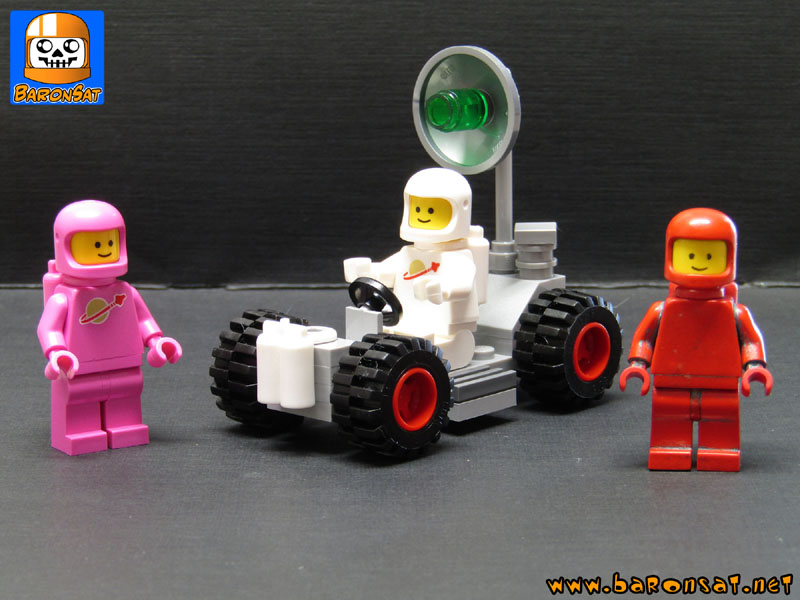 NEO SPACE CLASSIC LEGO CUSTOM MODELS MOC
With the release of the movie "The Lego movie 2", I could not resist the box 70841 with its astronauts and accessories "vintage". It made me want to redo the Space Classic and I started with these small models inspired by the sets Lego 886 Space Buggy and 6802 Space Probe. Incidentally I took the opportunity to show my "Benny" cards to me, from the 6929 set of 1981.
Pictures of the other models comingvery soon.
LEGO NOUVEAU CLASSIC ESPACE MOC MODELES CUSTOM
Avec la sortie du Film "The Lego movie 2", je n'ai pas pu résister à la boite 70841 avec ses astronautes et ses accessoires "vintage". Ca m'a donné envie de refaire du Space Classic et j'ai commencé avec ces petits modèles inspirés des sets Lego 886 Space Buggy et 6802 Space Probe. Au passage j'en ai profité pour ressortir des cartons mon "Benny" à moi, provenant du set 6929 de 1981.
Des photos des autres modèles très bientôt.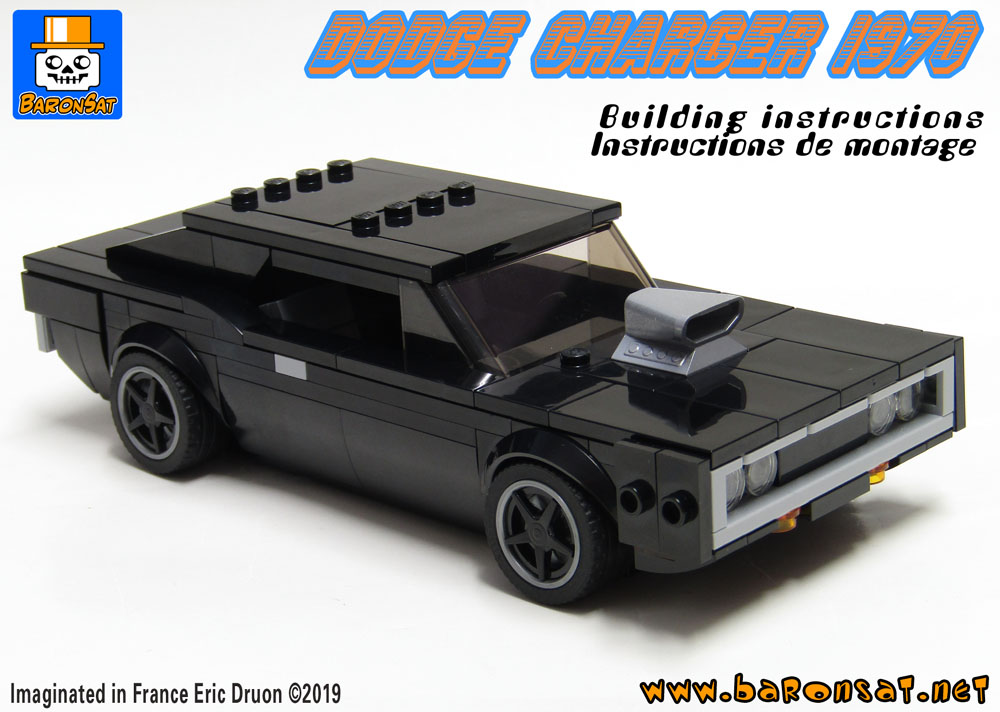 REFURBISHED DODGE CHARGER 1970 LEGO MOC.
I really like the Lego "Speed Cahmpions" line and the new reference 75893 "Dodge Challenger SRT Demon and 1970 Dodge Charger R / T" seduced me. The only problem is that I don't like the width of cars that I find too narrow so I decided to rebuild them in 8 tenons wide instead of 6. Here is the first one, the Dodge Charger 1970. The model required an almost complete overhaul to adapt it to a wider width but the challenge was interesting and the final result but remains true to the original thanks to the specific parts of this reference. So to those who will ask me the question: "is it necessary to buy the 75893 to build a model of 8 pins wide" I would answer yes ... unless you prefer to look for these parts on Bricklink.
From this work, I created building instructions that you will find in my shop by clicking on the image.
REFONTE DE LA DODGE CHARGER 1970 LEGO MOC.
Décidement, j'aime beaucoup la gamme Lego "Speed Champions" et la nouvelle référence 75893 "Dodge Challenger SRT Demon and 1970 Dodge Charger R/T" m'a séduite. Le seul hic c'est que je n'aime pas la largeur des voitures que je trouve trop étroite donc j'ai décidé de les recontruire en 8 tenons de large au lieu de 6. Voici donc la première des deux, la Dodge Charger 1970. Le modèle a nécéssité une refonte presque totale pour l'adapter à une plus grande largeur mais le défi était intéressant et le résultat final mais reste fidèle à l'original grâce aux pièces spécifiques à cette référence. Donc à ceux qui me poseront la question : "est-il nécessaire d'achetr la 75893 pour construire une modèle de 8 tenons de large" je répondrais oui... sauf si vous préférez chercher ces pièces sur Bricklink.
De ce travail, j'ai tiré des instructions de montage que vous trouverez dans ma boutique en cliquant sur l'image.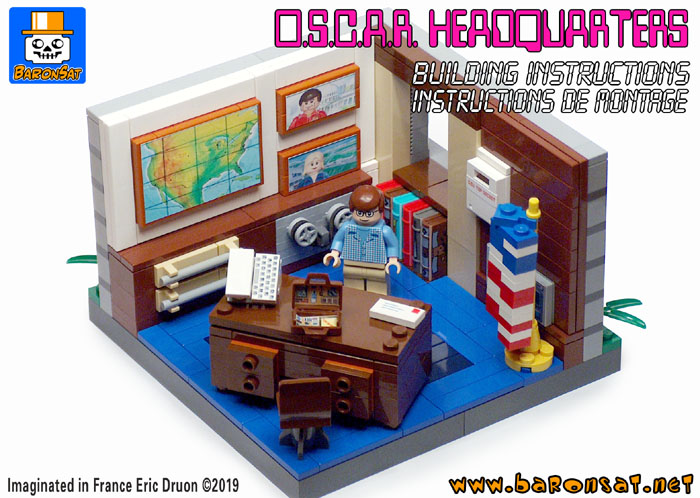 OSCAR'S HEADQUARTERS, BOSS OF THE BIONICS LEGO MOC.
Here's a model I built in 2008 and that I just modelised. It's Oscar Goldman's office, the leader of the Bionic Heroes, Steve Austin and Jamie sommers, inspired by Kenner's O.S.I. Headquarters playset from 1977. This playset is composed of two walls and a floor in cardboard all printed and a desk. As much redoing the desk in Lego bricks was quite simple as much giving back their volumes to the various object and furniture figured on the walls was significantly more fun. It was of course necessary to give a third dimension to these objects but at the same time to ensure that they were not too bulky and fill the room and I think that I have done well. I created building instructions for this model that you can find find by clicking on the image. Open title music not included ;)
QUARTIER GENERAL D'OSCAR LE BOSS DES BIONIQUES MODELE LEGO CUSTOM MOC.
Voici un modèle que j'ai construit en 2008 et que je viens tout juste de modéliser. Il s'agit du bureau d'Oscar Goldman, le chef des héros bioniques (bioioniques?) Steve Austin et Super jaimie, inspiré du playset Kenner O.S.I. Headquarters de 1977. Ce playset est composé de deux murs, d'un sol en cartons tous imprimés et d'un bureau. Autant refaire le bureau en briques Lego a été assez simple autant rendre leurs volumes aux divers objet et meubles figurés sur les murs a été nettement plus amusant. Il fallait bien sûr redonner une troisième dimensions à ces objets mais en même temps veiller à ce qu'ils ne soint pas trop volumineux afin de ne pas remplir la pièce et je crois que je m'en suis bien sorti. J'ai réalisé des instructions de montage de ce modèle à retrouver dans ma boutique en cliquant sur l'image. Musique du générique non incluse ;)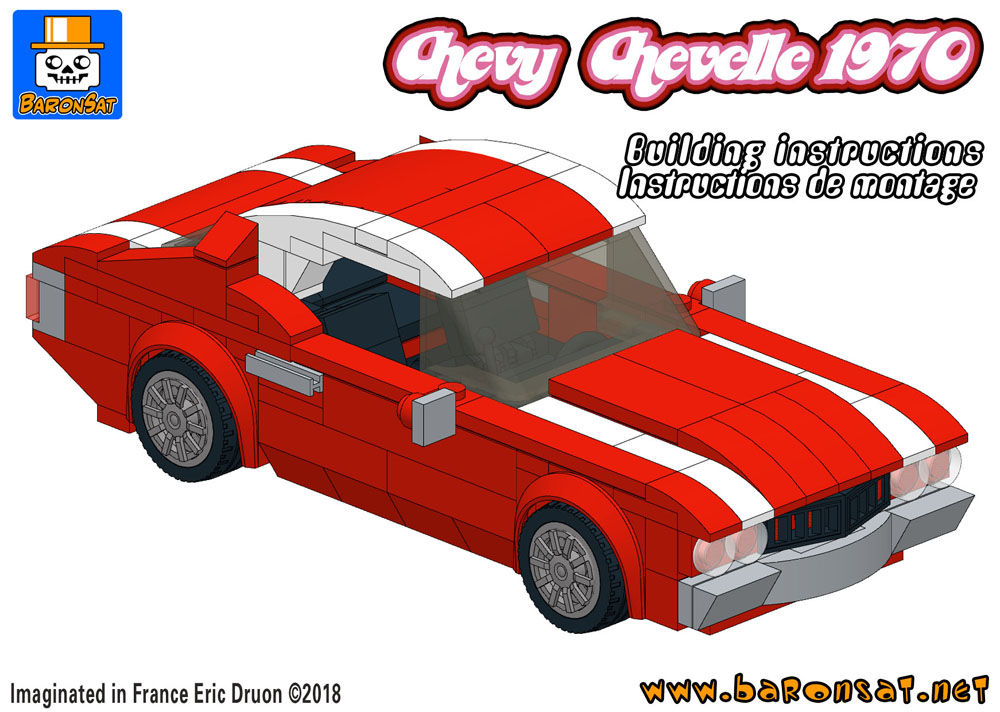 LEGO MUSCLE CAR CHEVY CHEVELLE CUSTOM MOC MODEL.
Like any good fan of action movies including car chases American cities streets, I wanted to build me a Muscle Car. As I didn't want to start with the too famous Ford Mustang or Dodge Charger, I chose the Chevelle by Chevrolet, a model with nice curves but however massive and powerful. But not being fond of Lego models in 4 or 6 tenons, I opted for a 8 tenons width, which allows to have four places. This model took a lot of time and thought so that it was neither too high nor too square and the different varieties of "slope" pieces were really useful.
The buidling instructions for this model can be found in my shop by clicking on the image.
LEGO CHEVY CHEVELLE MODELE CUSTOM MOC.
Comme tout bon amateur de films d'action incluant des poursuites en voitures aux moteurs surgonflés dans des décors de villes américaines, j'ai eu envie de me constuire une Muscle Car. Pour ne pas attaquer directement avec un Ford Mustang ou une Dodge Charger, j'ai choisi la Chevelle de chez Chevrolet, un modèle aux courbes agréables mais néamoins massif et puissant. N'étant par contre pas fans des modèles Lego en 4 ou 6 tenons, j'ai opté pour une largeur de 8 tenons, ce qui permets d'avoir quatre places. Ce modèle a demandé pas mal de temps et de réflexion afin qu'il ne soit ni trop haut, ni trop carré et les différentes variétés de pièces "slopes" ont été vraiment très utiles.
Les instructions de montage de ce modèle sont à retrouver dans ma boutique en cliquant sur l'image.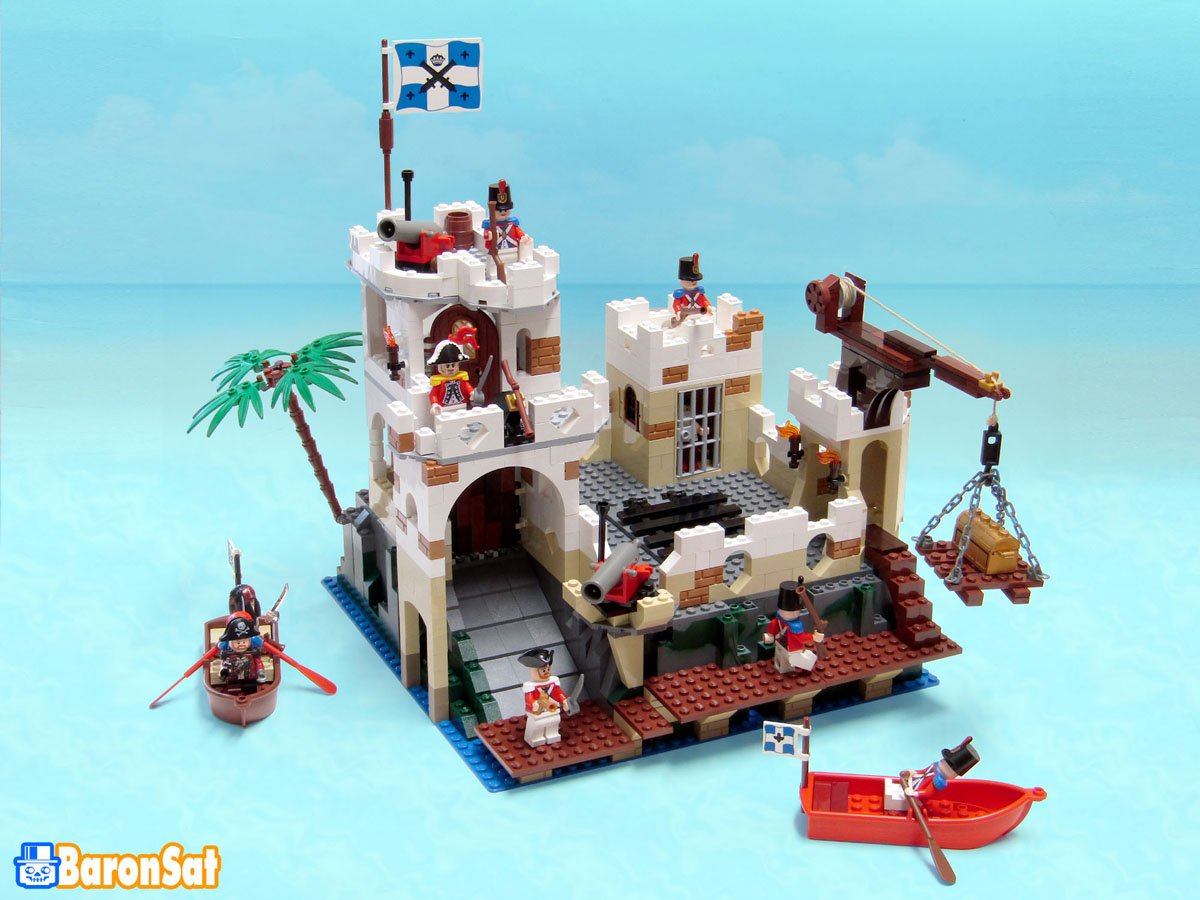 LEGO CLASSIC PIRATES 6276 REDUX MOC CUSTOM MODEL
All AFOL (or almost) are fans of old lines that we call Classic today and especially since Lego deprived us for a moment of the collections that we love so much. The theme of the day is the Pirates, the latest model of the line dating from 2015, I suddenly had (as it gets to a lot of us) want to build me again the El Dorado fortress. Having No longer the original parts and wanting a modernized version, I used my current stock and changed the color yellow for Tan and black for reddish brown. Other adaptations, such as the replacement of corner pieces were necessary to complete this model. The result is a model that combines the charm of vintage and modern design. Click on the image to access my gallery.
LEGO CLASSIC PIRATES 6276 REDU MODELE MAISON MOC
Tous les AFOL (ou presque) sont fans des anciennes gammes que l'on nomme Classic aujourd'hui et ce d'autant plus que Lego nous prive depuis un moment des ces lignes que nous aimont tant. Le thème du jour est celui des Pirates, les derniers modèle de la gamme datant de 2015, j'ai eu soudainement (comme ça rrive à pas mal d'entre nous) envie de me construire à nouveau la Forteresse El Dorado. N'ayant plus les pièces originales et voulant une version modernisée, j'ai donc utilisé mon stock actuel et changé la couleur jaune pour du Tan ou le noir pour du marron D'autres adaptations, comme le remplacement des pièces des coins ont été nécessaires afin de complèter ce modèle. Le résultat est un modèle qui allie le charme du vintage et le design du moderne. Cliquez sur l'image pour accéder à ma galerie.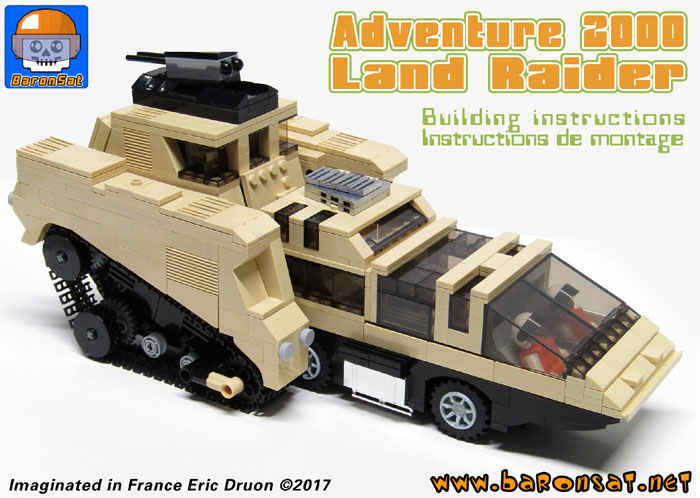 MATCHBOX ADVENTURE 2000 : K-2001 COMMAND RAIDER VEHICLE LEGO MOC MODEL
A custom model build by me with Lego bricks and based on the Command Raider vehicle from Adventure 2000 Matchbox line (1977). Here's a model that reflects the SF spirit of the 70s, a military-type vehicle consisting of two separable modules with caterpillars and a rocket launcher on the roof, and as much the rear part looks very "tank" as the scout vehicle with its large glass surfaces doesn't really inspire confidence in its strength. Now you're going to tell me that this is ultra-super-armored glass made from a material from the future, which will probably be true one day, and in fact it already exists and I don't know why, but the military still don't want big windows on their tanks, weird no ?! In short here is a concept of a future that never happened and fortunately also because this vehicle better known to Americans under the name Land Raider, seen in the English comic Judge Dredd, immediately think of the city of Mega City where the future is not really rosy. It doesn't matter, despite the passage of time, the Raider Command / Land Raider is still cool. This model was not really difficult to transcribe in Lego bricks with its very square look, despite all I had to change the green metallic color for tan, for lack of reference of it. The other possibility would have been to paint the model after or before editing but I don't like to do that kind of things.
The buidling instructions for this model can be found in my shop by clicking on the image.
ADVENTURE 2000 K-2001 VEHICULE COMMAND RAIDER de MATCHBOX
Un modèle custom réalisé par mes soins avec des briques Lego et basé sur le véhicule Command Raider de la ligne Adventure 2000 de Matchbox (1977). Voici un modèle qui réflète bien l'esprit SF des années 70, un véhicule de type militaire composé de deux modules séparables avec des chenilles et un lance roquettes sur le toit, et autant la partie arrière à un bon look très "tank" autant le véhicule léger avec ses grandes surfaces vitrées n'inspire pas vraiment confiance dans sa solidité. Et là vous allez me dire qu'il s'agit de vitres ultra-super-blindées fabriquées avec un matériau du futur, ce qui sera probablement vrai un jour, d'ailleurs ça existe déjà, mais je ne sais pas pourquoi, les militaires ne veulent toujours pas de grandes vitres sur leurs tanks, bizarre non?! Bref voici un concept d'un futur qui n'est jamais arrivé et heureusement d'ailleurs car ce véhicule mieux connu des américains sous le nom Land Raider vu dans la BD anglaise Judge Dredd fait tout de suite penser à la ville de Mega City où le futur n'est pas vraiment rose. Peu importe, malgré le temps qui passe, le Raider Command / Land raider reste toujours aussi cool. Ce modèle n'a pas été vraiment difficile à retranscrire en briques Lego vu son côté très carré, malgré tout j'ai dû changer la couleur vert métallisé pour du tan, par manque de référence de celle-ci. L'autre possibilité aurait été de peindre le modèle après ou avant montage mais je n'aime pas trop faire de genre de chose.
Les instructions de montage de ce modèle sont à retrouver dans ma boutique en cliquant sur l'image.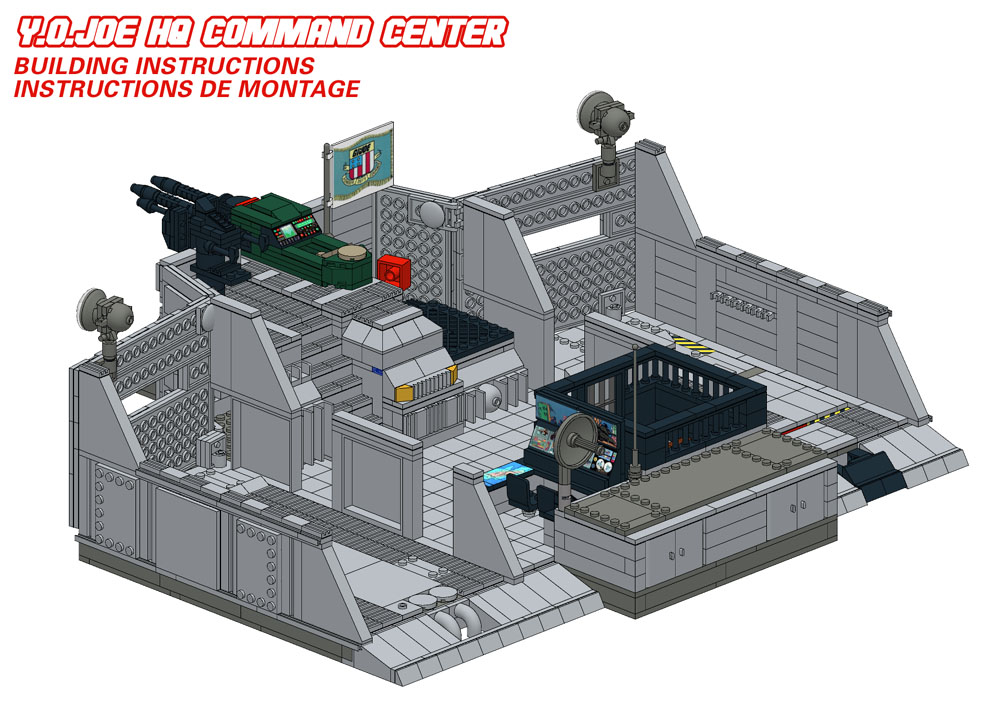 JOE HQ COMMAND CENTER LEGO MOC CUSTOM MODEL
Custom model inspired by the playset of the same name from Hasbro 1983. When I discovered this toy, flipping through old catalogs, I immediately found it great, even if I never had a GI Joe of this format, only 12 ". I could have browsed the online sales sites and bought one but just like you I'm a fan of Lego so it was logical that I make my own version with Lego bricks. It's been a real pleasure, because even if building with so few colors can seem boring, in fact I had fun as a kid. Luckily there were a lot of complicated parts to reproduce, like the walls at the front with their odd angles or the platform lift for vehicles on the right side, making the creation of this model exciting. The central part remains my favorite with its prison with comfortable beds and the computer / communication center. Not to mention the storage part for weapons and accessories reproduced faithfully. The model is still very playable even after its transformation into Lego model. The buidling instructions for this model can be found in my shop by clicking on the image.
QUARTIER GENERAL GI JOE MODELE CUSTOM MOC
Modèle custom inspiré par le playset du même nom de Hasbro 1983. Quand j'ai découvert ce jouet, en feuilletant de vieux catalogues, je l'ai tout de suite trouvé génial, pourtant je n'ai jamais eu de GI Joe de ce format, seulement des 12". J'aurais pu parcourir les sites de ventes en ligne et en achetr un mais tout comme vous je suis avant tout un fan de Lego donc il était logique que je me fabrique ma propre version avec des briques Lego. Et ça aura été un vrai plaisir, car même si construire avec aussi peu de couleurs peut sembler ennuyeux, en fait je me suis amusé comme un gamin. Heureusement il y avait tout un tas de parties compliquées à reproduire, comme les murs à l'avant avec leurs angles bizarres ou l'élévateur de véhicules de la partie droite, rendant la création de ce modèle excitante. La partie centrale reste ma préférée avec sa prison aux lits confortables et l'ordinateur / centre de communication. Sans oublier la partie rangement pour les armes et accessoires reproduite fidèlement. Le modèle est toujours très jouable même après sa transformation en Lego.
Les instructions de montage de ce modèle sont à retrouver dans ma boutique en cliquant sur l'image.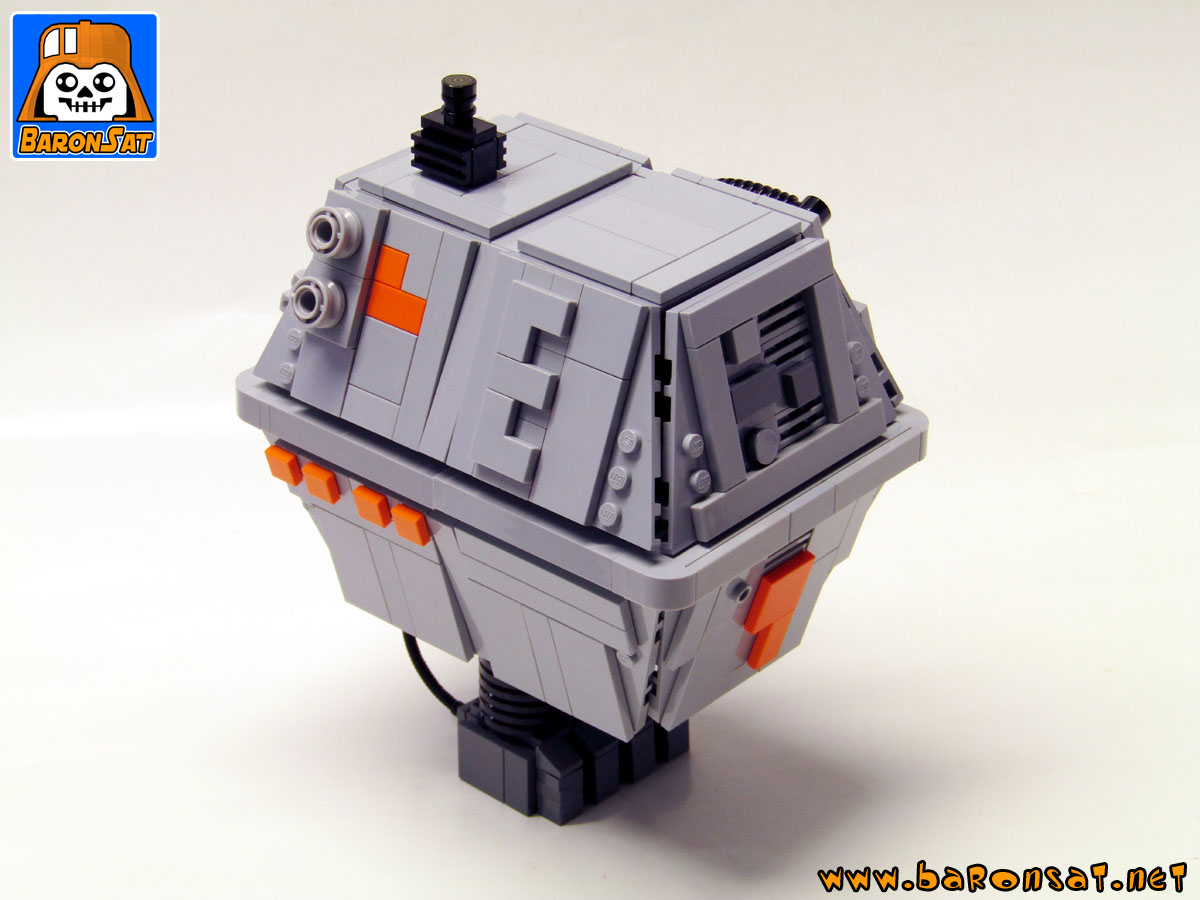 GONK POWER DROID LEGO MOC CUSTOM MODEL
Some people will say it's the ugliest Star Wars droid, but I can't help but love it. Its square shape makes it look so solid and reliable that it will always be operational, much like old computers or game consoles. I previously built a minifig format one but this one is much larger; 12" scale; and not blue?! It was my first choice but the lack of blue/dark blue wedge plates made me choose the gray color and grey is star Wars. Everyone knows that if we open one of this robot, we will find an actor, for my part I prefer to add an energy generator. Last thing many of the various gonk photos you'll find really show an E on the side, it has nothing to do with my first name ... but it suits me. :)
MODELE CUSTOM MOC LEGO DU POWER DROID
Certaines personnes diront que c'est le droïde de Star Wars le plus moche, mais personnellement je ne peux pas m'empêcher de l'aimer. Sa forme carrée lui confère une apparence si solide et si fiable qu'il sera toujours opérationnel, un peu comme les vieux ordinateurs ou les consoles de jeux. Par le passé, j'ai déjà construit un Gonk au format minifig mais celui-ci est beaucoup plus grand; échelle des 12 "; et pas bleu?! C'était mon premier choix mais le manque de plaques bleu / bleu foncé m'a fait choisir la couleur grise et en plus, le gris c'est star Wars. Tout le monde sait que si on ouvre un de ces robots, on trouvera un acteur dedans, pour ma part, j'ai préfèré ajouter un générateur d'énergie. Une dernière chose, sur les différentes photos de gonk que vous trouverez, on voit E majuscule sur le côté, donc cela n'a rien à voir avec mon prénom ... mais ça me convient comme ça :)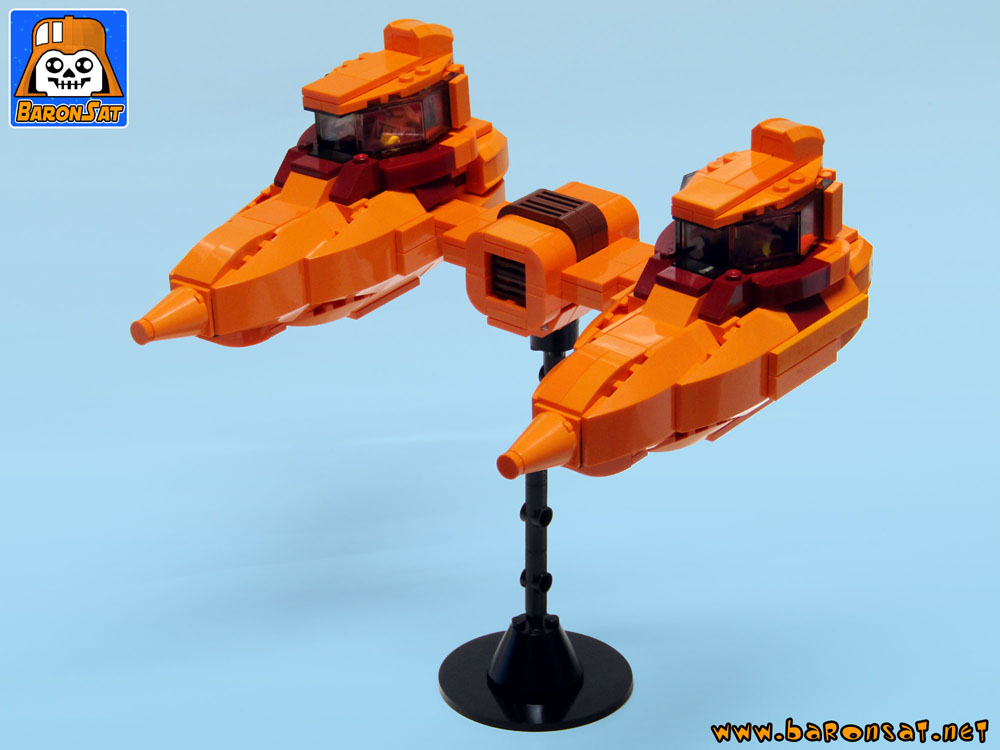 Twin Pod Cloud Car Lego moc custom model.
You may have bought the set 75222 Betrayal at Cloud City and like me you were a little disappointed by the Twin Pod Cloud Car too small and too ... red. Everyone wonders why Lego stubbornly tries to make this model red, not orange, as seen in the movie Empire Against Attack. So I decided to build my own model, more to the scale and especially orange. As long as I was there, I made an exhibition stand so I could show it with my version of Bespin. You too can build this model, the building instructions are in my shop via the link on the page, just click on the image.
Modèle custom moc Lego de Twin Pod Cloud Car.
Vous avez peut-être acheté le set 75222 Trahison à la Cité des Nuages et comme moi vous avez été un peu déçu par le Twin Pod Cloud Car trop petit et trop... rouge. Tout le monde se demande pourquoi Lego s'obstine à faire ce modèle en rouge et non en orange comme on le voit dans le film l'Empire Contre Attaque. J'ai donc décidé de construire mon propre modèle, plus à l'échelle et surtout orange. Tant que j'y étais j'ai fabriqué un support d'exposition, histoire de pouvoir le mettre en valeur avec ma version de Bespin. Vous pouvez vous aussi construire ce modèle, les instructions de montage sont dans ma boutique via le lien sur la page, cliquez sur l'image.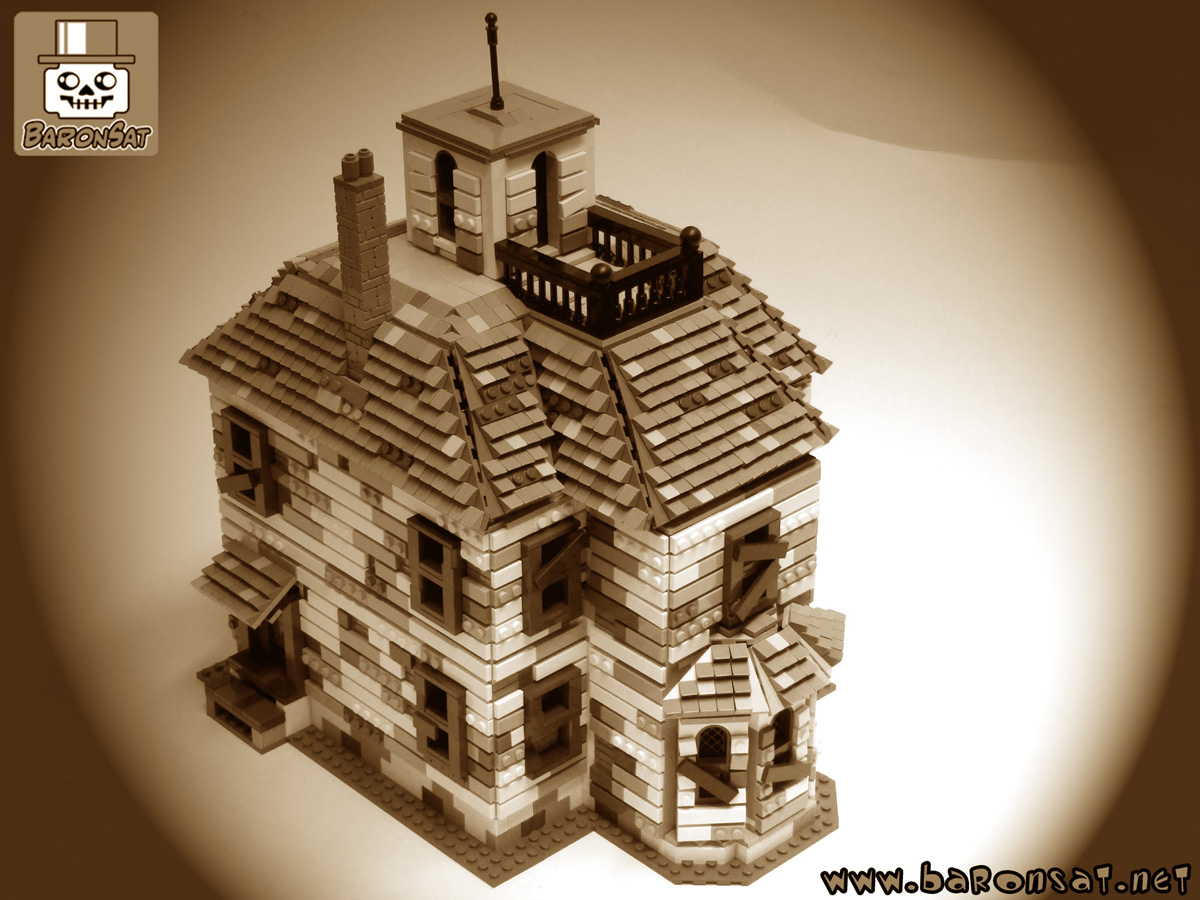 HAUNTED HOUSE LEGO MOC CUSTOM MODEL
The Haunted House, classic theme par excellence and yet offering possibilities, from the scariest to the most cartoonesque. As this is a custom made model, the customer had a very specific request and wanted me to take inspiration from the model, H0 scale of the Alexander brand. This partly ruined Victorian home is quite sinister although not displaying the usual clichés of spider webs, dead trees, bats, tombs or monsters, making it a truly interesting and profound model. Interesting model to create, especially for its roof and the chimney that goes with it, in short it was complicated but entertaining. Click on the picture to go the page.
MOC MODELE CUSTOM LEGO DE MAISON HANTEE
La Maison Hantée, thème classique par excellence et pourtant offrant de possibilités, de la plus effrayante à la plus cartoonesque. Comme il s'agit d'un modèle réalisé sur commande, le client avait une demande très précise et souhaitais que je m'inspire de la maquette, à l'échelle H0 de la marque Alexander. Cette maison victorienne partiellement en ruine, est assez sinistre bien que n'affichant pas les clichés habituels de toiles d'araignées, arbre mort, chauve-souris, tombes ou monstres, ce qui en fait un modèle vraiment intéressant et plus profond. Modèle intéressant à créer, notamment pour son toit et la cheminée qui va avec, bref ça a été compliqué mais divertissant. Cliquez sur l'image pour aller sur la page.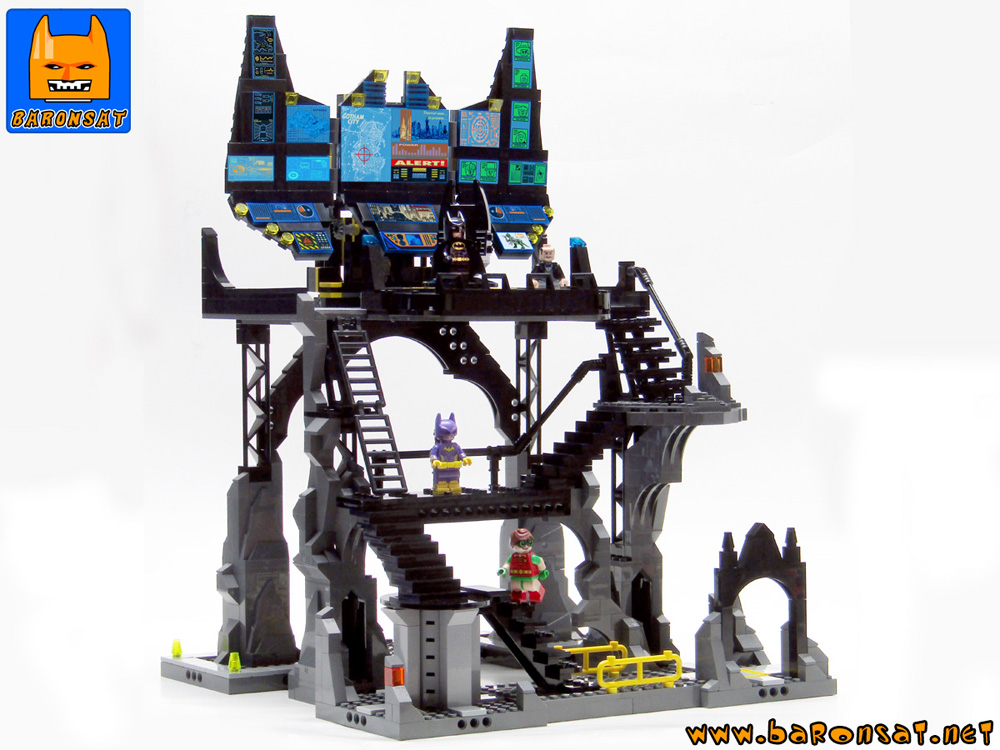 BAT COMPUTER LEGO MOC CUSTOM MODEL
The Bat-Computer, a custom Lego brick model made on demand for a great Batman fan. Don't fool yourself, it's not a complete Batcave, but just the computer section, I'll let you imagine the size of the Batcave. Many stairs for this theatrical and gothic playset and some tricks like the "wings" of the computer that fold and unfold when moving the Batman armchair. Click on the picture to go the page.
BATCAVE SUPER-ORDI MODELE CUSTOM MOC LEGO
Le Bat Ordinateur, un modèle custom en briques Lego, fait sur commande pour un super fan de Batman. Ne vous trompez pas, ce n'est pas une Batcave complète, mais juste la section informatique, je vous laisse imaginer la taille de la Batcave. Beaucoup d'escalier pour ce playset théâtral et gothique et quelques astuces comme les "ailes" de l'ordinateur qui se plient et se déplient lorsqu'on déplace le fauteuil de Batman. Cliquez sur l'image pour voir la page de ma galerie.